Live Chat is a thing now – and the constant rise in number of its adoption proves its success. Live chat software is a messaging application that offers you to respond your customers instantly in real-time. They are usually added as a widget to the website in the bubble form. There are many free live chat software available today. Check out our ultimate list of the best free live chat software solutions for SMBs, SaaS, and eCommerce (free versions).
Desky
Tawk.to
Crisp.Chat
LiveSupporti
FreshChat
Chatra

---
Desky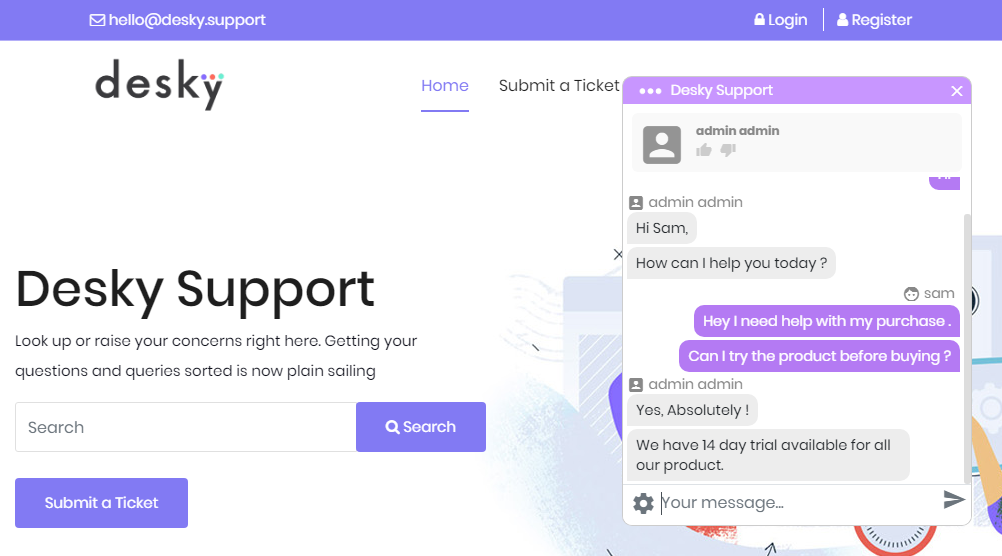 Desky launched its free live chat tool as an integral part of the helpdesk software. Hence it is an excellent option for startups and growing business since. Since they won't have to spend tons of time, effort and money integrating different systems.
Secondly, the customer support portal gives you a full view of the customer communications. In this case, Desky live chat is tied brilliantly with the helpdesk desky.support. Eventually, you can trace how your customer service team is handling tickets.
Additionally, Desky also has a free mobile app facility. So, now you can respond to your customers using this platform-friendly live chat.
Signup for a free account here

---
Popular Live Chat Software
2. Tawk.to
Besides Desky, the tawk.to is one of the most famous free live chat software. It is easy to use and full of amazing features. It provides every essential thing required for running efficient customer support.
Primarily, it's single dashboard can help you to keep complete control over customer service team management.
Also, you can aesthetically customize your tawk.to widget. There are also a number of emojis available for expressing and communicating with your customers.

Check more details here

---
Crisp.Chat

Likewise, Crisp live chat software uses chat windows to support customer messages and feedback.
Crisp's sales pipeline automation tools will appeal to those with sophisticated sales programs. Secondly, it has an interesting feature of status monitoring system to alert customers as they're detected.
Therefore, SaaS companies that promise certain uptimes may benefit from these proactive communications facility by Crisp.

---
Advanced Features Live Chat Software
LiveSupporti

LiveSupporti is developed to offer great customer support through live chat. It gives users the ability to assign messages to different groups. Say for example, you can assign an active chat to you're the respective support agent.
Beyond that, you can get a "sneak peek" of visitors' text. Like Tawk, LiveSupporti uses geolocation features to allow targeted support. It certainly ensures faster support.
Also, the advanced visitor statistics with LiveSupporti improve the service experience. It shows agents which pages are visited and how long customers stay on a particular page. Additionally, it also shows visitors' browser, their operating system and their device.

---
FreshChat
Freshdesk, like Desky, is a live chat system that ties directly into a customer support heldesk system. In addition to its flexibility, FreshChat offers agents and visitor context tools. These tools enrich chat conversations with event timelines, user information and data from visitors' social profiles.
FreshChat promotes self-service functionality of its helpdesk. It offers a huge resource library for its customers. This ensures every FreshChat user gets the most out of the popular platform.

---
Chatra
Like other live chat software listed here, Chatra offers a multilingual chat widget. It ensures that support agents are able to provide a outstanding experience to all visitors.
Chatra offers screen sharing integration, as well as outgoing webhooks. These makes it easier to sync Chatra activities with other activities. Despite the fact that both features are only available to paid users. They're worth a second thought by any business that's interested in maximizing the value of its live chat experiences.

Live chat software undoubtedly offers the highest level of customer satisfaction. Consequently expect repeat customers and more sales.
Desky live chat offers the best value to Envato authors and SMBs. The minimal and useful features, ease of setting up and use of analytics wins advantage. Comparatively, it also offers unlimited live chats. You can sign up for the free version now. And, set up your helpdesk to make the most of your customer service goals.